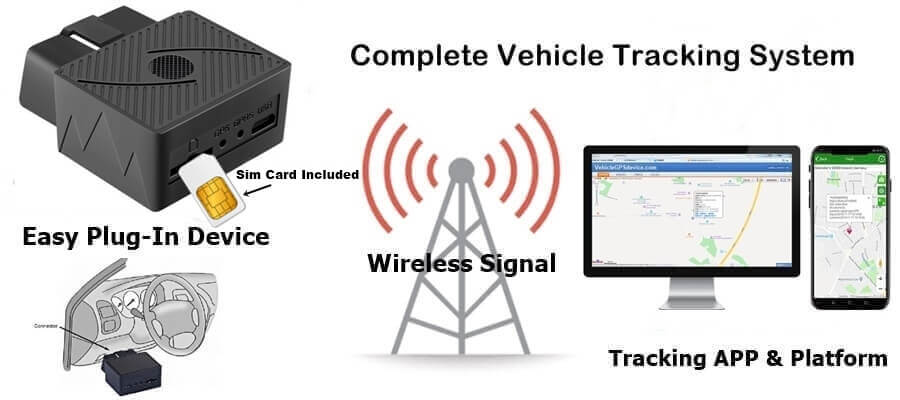 Accurate – Dependable – Small/Mini – Affordable
This Plug & Play Mini OBD GPS tracker with service used to track your car is simple and easy to use.  It's as simple as using a Phone APP, and/or for an online platform. Just purchase a wireless service plan from us for real-time tracking for your car, truck, van or any vehicle with a OBD port.
Monitor your vehicle live in real-time with extremely accurate location information.  Set-up geographical area and over speed alarms. Helps to improve driving habits. Know the exact location of your vehicle in an emergency instantly so you can send help.
Our GPS tracking system offers every thing you need at an affordable price. With an easy plug-in-play OBD GPS tracking device and sim card with wireless service, you can track your vehicle with phone apps and/or an online tracking platform.
Everything You Need For Real-Time GPS Tracking:
---
OBD II GPS Tracker – Easy Plugin


Affordable and simple to install and is very inconspicuous, just plug it in to your vehicle, its that easy. SIM Card Included.
---
Real-Time Tracking Service


All GPS trackers require a wireless signal for real-time tracking. The wireless signal connects your device to the tracking phone apps and the online tracking platform.
---
Phone APPS & Online Tracking


Download and install our real-time tracking APP for your cell phones or login online and monitor your vehicle in live real-time, active location and speed, the location history, setup GEO fencing alerts.
---
Benefits:
24 Hour Live Real-Time Tracking
Speed Monitoring and Alerts
Geo-fencing
Driving History
Power Disconnect Alert
Auto Theft Recovery
Insurance Discounts
Monitor Teen Driving Habits & Location
Elderly/Senior Driving & Location
No Battery Required
Free Phone Apps for iPhone & Android
Free Online Tracking
Fits all cars built after 1996
Start Tracking Your Vehicle – Buy GPS Tracking Device